Junior Ten Tors 2022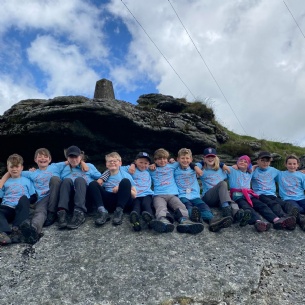 Team Ermington Finish Epic Junior Ten Tors Challenge
On Friday 9th and Saturday 10th of June, 12 adventurers from Year 6 set out on the Junior Ten Tors Event. The weather was very kind to us and we had a fabulous walk and camp, beginning at Cadover Bridge and finishing in Princetown. Below you can see our team at the start of their walk, at their first tor, and then at their tenth (after a night under canvas)!
A huge well done to everyone involved. You should be immensely proud of yourselves for all that you have achieved. This was no mean feat, you approached it with such maturity and enthusiasm. We hope, now that you have had some time to rest and reflect, that you enjoyed yourselves and realise what a tough challenge you have undertaken. You were a real credit to Ermington, displaying wonderful behaviour, teamwork and determination throughout.
We would like to thank Emma and Rupert Goolden for helping to transport kit and staff for the event, and also to all adults that were able to welcome us back in Princetown for the finish. Your support is very much appreciated and makes the event even more special!
"JTT was very fun, but so tiring! The best part was setting up the tent, it was hard work. At the end of it I was exhausted. It was a great experience that I will remember for a long time." Florence
"JTT was a very new experience to say the least, however, it was a fun one! The best part, in my opinion, was putting the tent up, even though my legs were really hurting. When we got to Princetown School I literally couldn't feel my legs but I'm glad that I did it!" Lily
"JTT was amazing but tiring as we had to walk 10 tors! The hardest bit was when we (just me) put up the tents and pulling the tents down as well as cooking the food. It was fun to walk with my friends though." Ben